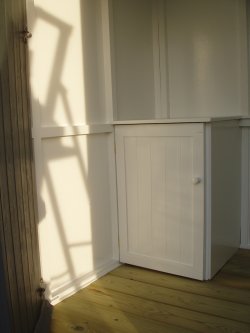 My beach huts are built to withstand exposure to the harsh coastal weather conditions. All of my beach huts are built to the highest standard. I use marine-grade plywood. I use PAR (planed-all-round) timber that is treated and primed before painting. All of my beach huts are built using corrosive-resistant screws throughout. I use stainless-steel bolts and screws to secure the exposed parts and use galvanised ironmongery wherever possible. All of my beach huts have a bitumen treated base-layer which is raised above the esplanade onto concrete slabs and I use tanalised (pressure-treated) floorboards to resist wet and rot. My customers demand a complete and professional service, which is why I not only build new beach huts but also repair, maintain and paint older ones that are in need of care and attention. For a detailed quotation and price-list please contact me.
Colourful beach hut doors are most people's first impression of the seaside in Hove and certainly brighten up the seafront. It is important to keep them in good condition and repainted every so often to keep out the weather. My doors are treated, primed, undercoated and glossed with high quality paint. All of my cladded doors are made with three layers for added security. Both doors are hung on hot-dipped galvanised T-hinges and secured with large galvanised Brenton bolts and stainless-steel locks.
Free inspection and quote.
Fully insured.
All my new beach huts are guaranteed for 10 years (Brighton & Hove City Council annual license terms and conditions apply).